Str8hustlin is in the Penalty box and talking to Sean Henry, CEO of The Nashville Predators.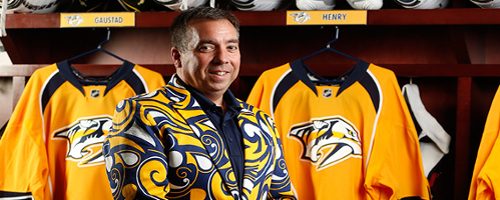 Podcast: Play in new window | Download
Subscribe: Apple Podcasts | RSS
Sean Henry, CEO and President of the Nashville Predators takes a few minutes out of his busy day to speak to myself(Dick Darin) and Stew of Str8hustlin.com. The Nashville Predators in Nashville, Tennessee, are members of the Central Division of the Western Conference of the NHL. The Predators joined the NHL as an expansion team in the 1998–99 season, and play their home games at Bridgestone Arena. As we speak to Sean, the Preds staff are preparing a party for retiring CEO Jeff Cogan. Sean is fired up and ready for the opportunity as CEO and President. We speak to Sean about the Preds season so far in 2015, vibrant downtown Nashville area, hosting the upcoming NHL All Star game and the amazing and electric atmosphere in and outside of the Bridgestone arena that the Preds staff and fans create each home game. Talking to Sean, a few things that I feel really stand out, and you can feel his passion for are:
***Love for the game – You can tell this is not just a job for Sean, he truly loves the game, is excited about evolving the game without degrading the historic game play.
***Fans – In Sean's own words the Preds are "breaking down the barriers to have affordable tickets". Sean wants everyone to see the Predators play. The ticketing structure and packages allow someone to see a game for as little as $15.00. Sean and the Preds staff are not out to just cater to the big fish ticket holders, every fan and visitor is a big fish. The $15.00 ticket buyer today is the future season ticket holder tomorrow. Don't get me wrong, I know a few season ticket holders and the personal treatment they receive from the Preds staff is amazing, the Preds have something for everyone.
***Giving back to the community – Yes the Predators are exciting to watch, yes every seat in the stadium has a great view, but the Nashville Predator's organization is so much more than just a major sports team. 7000 hours of community service donated by the Preds team and employees last year, over 1 million in cash, 2 million in services and the list goes on and on. The Predator's have set the bar for giving back and Sean challenge's all sports teams everywhere to try and compete. The Predator's are helping better the community, bring awareness to issues, and change people's lives.
So please listen to our interview and find out what Smashville is all about. For more information on the Nashville Predators, please visit: http://predators.nhl.com/
Please Listen or
Download
or Listen on our YouTube Channel at:
https://www.youtube.com/watch?v=oIiGdEX8E00
Music Lance Stinson – Song "Hold My Beer Watch This"
http://www.lancestinson.net/